Flynt Paint Products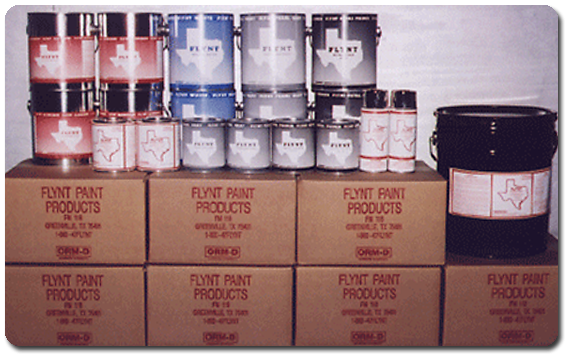 FLYNT PAINT PRODUCTS Manufactures several quality paint products including:
FLYNT ALUMINUM PAINT
FLYNT METAL PRIMER
FLYNT WHITE PAINT
FLYNT TAN PAINT
FLYNT PEARL GRAY PAINT
SPECIALTY COLORS (Red, Blue, Green, Yellow, Brown)
FLYNT ALUMINUM PASTE (Leak Detector)
Need a specific color for your company? CALL or CONTACT US!
All our paint products are available in: quart, gallon, and 5 gallon pails. Flynt Aluminun Paint is also available in 12 oz. aerosol cans. See our standard colors on the right.
If you are looking for aluminum paste to find leaks in your piping and other oil field equipment - Try Flynt Aluminum Paste!